1. Click on 'Create New Portfolio'.

2. Enter Portfolio Settings and click 'Create'.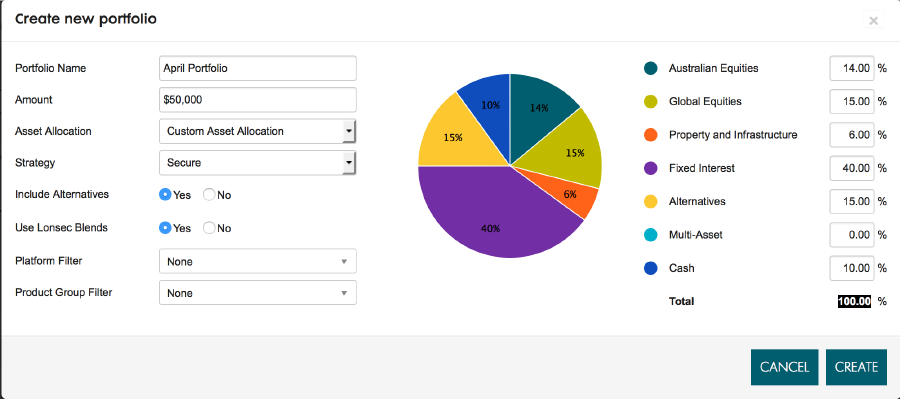 Investment Amount: this field is optional, so when creating a model portfolio for example no amount needs to be entered. If an investment amount is entered the cash value of each fund will be shown when reviewing the portfolio.
Asset Allocation: select the asset allocation model to build your portfolio around. With Lonsec's Strategic Asset Allocation (SAA) or Tactical Asset Allocation (TAA) (updated quarterly, refer to the latest IOR for recommendations) the weightings will be determined for you, alternatively use Custom Asset Allocation if you already know the weightings for each asset sector. 
Strategy: select a risk profile or use the Risk Profiler to determine the asset allocation strategy for your portfolio. To build a single asset class portfolio select the appropriate sector type. Once you have selected this the pie chart to the right will update with the suggested asset allocation if Lonsec's SAA or TAA were selected.
Alternatives:  select according to whether you wish to use alternatives products in the portfolio.
Lonsec blends: If you have chosen to use Lonsec Blends, the portfolio will pre-populate with default funds recommended by Lonsec which complement each other to create a balanced portfolio in line with the Strategy selected. 
Alternatively, if you select 'No' you can select products for each asset class using the search tool once you are in the portfolio.
Filter by platform: if the portfolio will be invested via a particular platform select it here so only funds available on the platform are shown when searching for funds.
Filter by product group: use to restrict the available funds in the search options to build your portfolio from to a pre-saved product group such as a company APSL.
3. Adding funds to your portfolio
There a three ways you can do this:
a. Using the  + Add a fund search box
Enter the APIR code, or multiple APIR codes with a space between them, or type in the fund name and select from the drop-down list.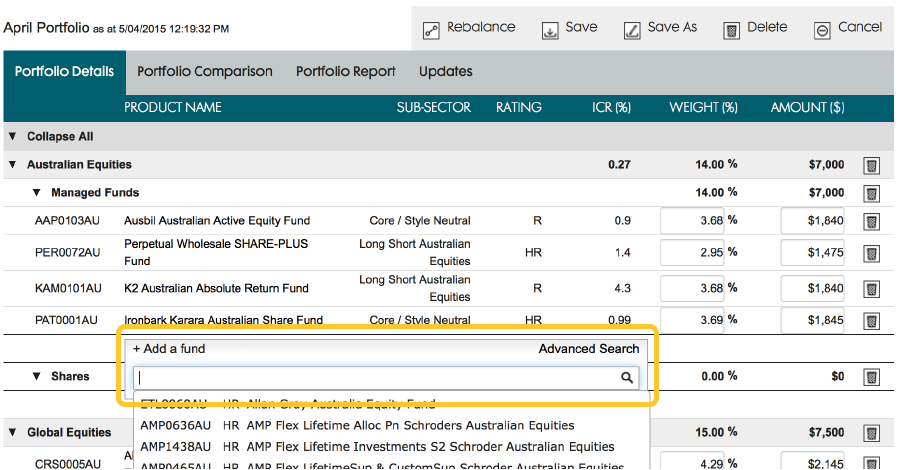 b. Using the Advanced Search
This will take you to the Funds Research page. Note, you may be prompted to save your portfolio before being directed to this page.
Search for funds as you would normally (details here) and move them to the Selected area. From here click on 'back to Portfolio Construction' to add them to your portfolio

c. Using your Workbench
Go to your Workbench and under 'Send to...' select Portfolio Construction
This will bring across all products saved to your Workbench while working in other areas of the site.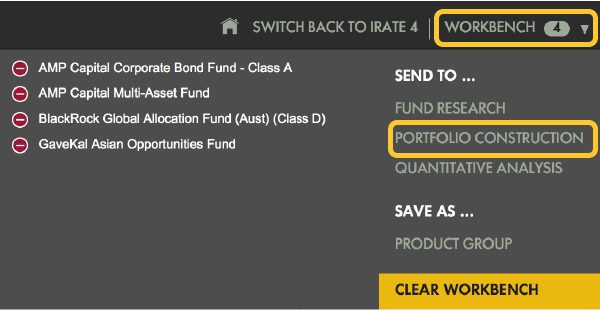 4. Review / modify product selection and weightings as required.
You can make any further changes to your portfolio from this area - delete funds, adjust weightings or cash values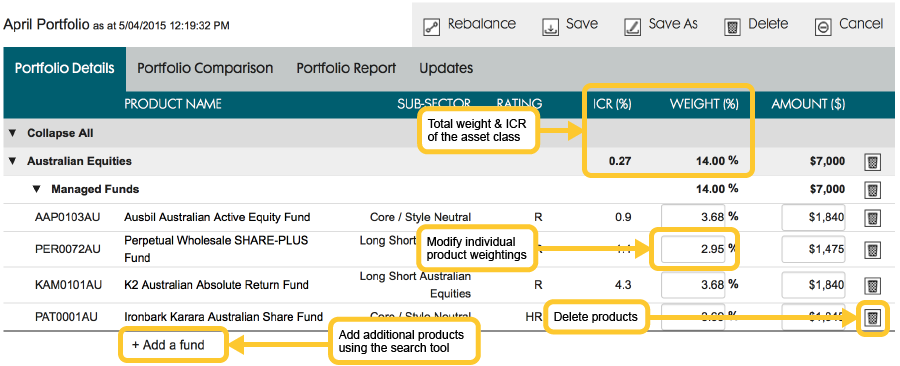 Once you are happy with the portfolio click on Save. You will be prompted to save if you try to go to another page in the site or make a change to any of the Portfolio Settings.
5. Click on the 'Portfolio Comparison' tab to compare portfolios if required.
Use this to compare your new portfolio against an existing portfolio you have saved e.g. a client's new portfolio versus your model portfolio.
(i) Click on the "+" icon

(ii) Click on 'Compare To...' and select a portfolio.

6. Click on the 'Portfolio Report' tab
Select one or more reports, update report details and click 'Generate Report'.
Note: if multiple reports are selected, files will be downloaded as a zip (folder).