Allows you to compare up to 5 portfolios against one another, or view each time period of a time-series portfolio side by side.
Loading comparison portfolios
1. From the 'Portfolio Comparison' tab, click on the "Add" icon
2. Select the portfolio to compare from the drop down menu.
Repeat these steps to add additional portfolios (a maximum of five portfolios can be compared)
3.a. A benchmark can be selected and presented in the Performance section and Quantitative Analysis charts. 
Note: the default benchmark selected will be the FE peer group benchmark for the strategy of the first portfolio in the comparison table.
3.b. The Start and End dates will default to the common dates available for all portfolios selected.
You can update these to any dates between those loaded. 
3.c. Select if you wish to view the performance over the selected dates or for all the time-series dates

Quantitative Analysis Charts 
Select the quantitative analysis charts to analyse the portfolios against.
The default four charts will display at the bottom of the page - Growth of $10,000, Risk Return, Period Returns and Drawdown Analysis.
Click here to find out more about changing the charts...
To view individual data points on a chart, hover your mouse over the chart.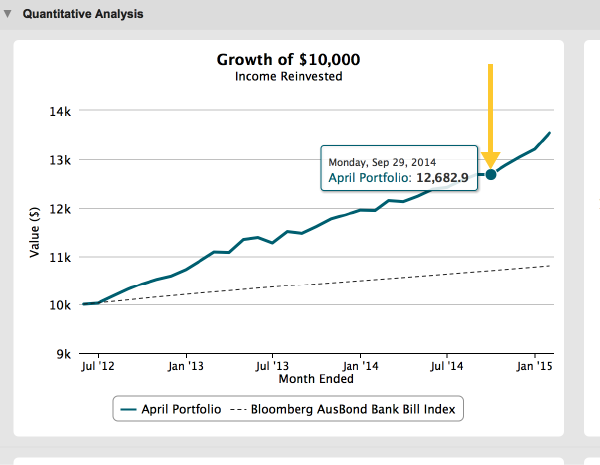 Export / Print
From this page, the comparison information can be exported in excel and PDF format.  
You can add your own commentary to the report. Find out more here