Add funds using the search tool or add all funds within a Portfolio or Product Group.
Search
Funds can be added for quantitative analysis by searching for the APIR code or fund name.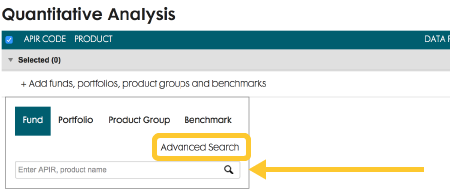 Advanced search options and filters can be applied via the Fund Research page and then 'sent' back to the Quantitative Analysis tool.
Click on 'Advanced Search'.
From the Fund Research page, define the search criteria using the filters e.g. 'Asset Class / Sector', 'Rating', 'Platform' etc. (See 'Search Tips' for further information)
Once funds have been selected, click on the 'Quantitative Analysis' link at the top of the page or within the Workbench to send selected funds back to the Quantitative Analysis tool.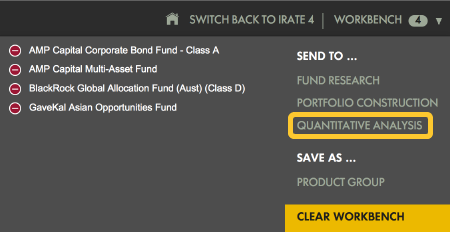 Fund Research page

Product Group / Portfolio
Selecting a Product Group or Portfolio will add all related funds in the Quantitative Analysis tool.
Note: the existing product weights will be retained in the portfolio.