1. Click on 'Create New Portfolio'.

2. Select 'Direct Equity' as Portfolio Type.

Enter portfolio name
Enter amount - optional field
Click on 'Create'
3. Adding stocks to your portfolio
There are two options:
a. Using the  '+ Add Product' search box

Click on 

 located at the top right of the portfolio screen.
In the drop down box enter the ASX code, or multiple ASX codes with a space between them, or type in the stock name and select from the drop-down list.
b. Using 'My Watchlist'
If you have created Watchlists in the Equities area (click here to learn how), select the Watchlist from the drop down menu 
Click on 

 scroll to the bottom of the list and select the Watchlist
4. Enter asset allocation weights/ modify product details as required
You can make further changes to your portfolio from this area - enter weights for each stock or cash values, delete stocks or add further products.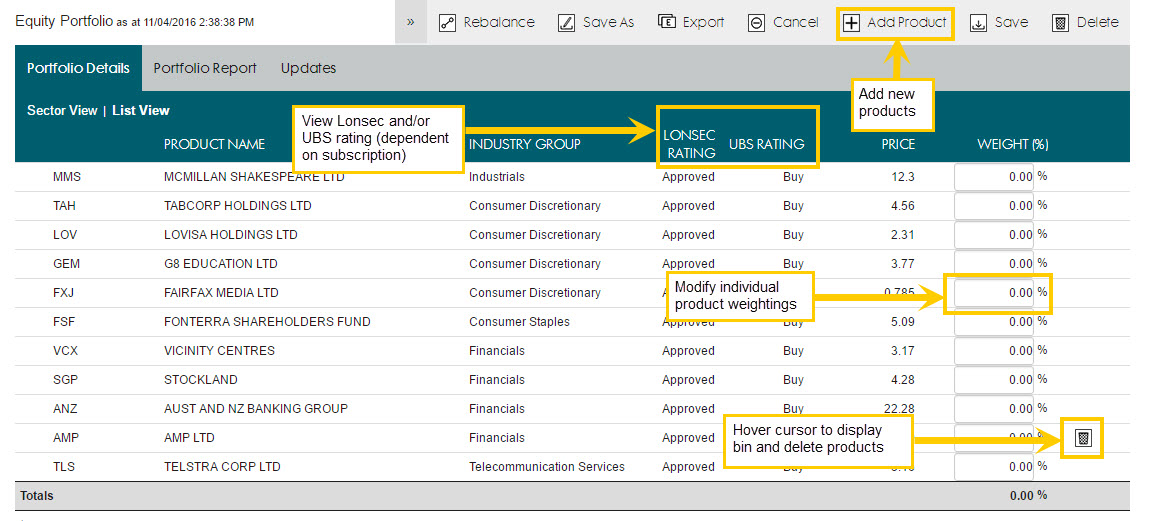 5. Save your portfolio

Click on 'Save' before leaving the page to save your portfolios and any changes made
Or use 'Save As' to create a copy of your portfolio
6. Click on the 'Portfolio Report' tab
Create a Portfolio Client Report and select to add the Stock Viewpoint for each of the under products in the portfolio.
Client Report Customisation
The following report customisations are available for the Portfolio Client Report:
Advisor Name
Client Name
File type (PDF or Word)